CSX Transportation Awards the Chondrosarcoma Foundation Funding to,,Join with NORD and Inhibrx For A Patient Registry/Natural History Study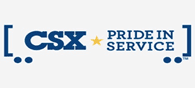 BOWIE, Maryland, March 28, 2022–CSX Transportation a Class 1 freight railroad company headquartered in Jacksonville, Florida has awarded the Chondrosarcoma CS Foundation a grant to support the efforts to develop the Chondrosarcoma Patient Registry / Natural History Study.
The Chondrosarcoma CS Foundation is teaming up with the National Organization for Rare Disorders (NORD) to establish a Chondrosarcoma Patient Registry to advance research, clinical trials and improve the treatment of Chondrosarcoma, a rare bone and soft tissue cancer. The effort is also being sponsored by Inhibrx, a California-based biotechnology company. The Chondrosarcoma Foundation will become the 44th Foundation to utilize NORD's IAMRARE Patient Registry Platform.
The Chondrosarcoma Patient Registry will be a prospectively-planned natural history study that will result in the most comprehensive understanding of Chondrosarcoma and its progression over time. Patients and Caretakers will be able to find answers to critical questions and make informed decisions about their care from an aggregate database on socio-demographics, diagnostics, disease progression, management of care, quality of life and treatment outcomes.
The Chondrosarcoma Foundation is a 501(c)(3) Non-Profit Organization. Its mission is to educate the public and advocate for patients with Chondrosarcoma. The organization was founded by Jeffrey Kramer after his daughter Shayna fought Grade 3 Conventional Chondrosarcoma, and lost her battle in November 2019 at the young age of 28. Shayna expressed a desire to educate the world about Chondrosarcoma so she could help others suffering from this rare, deadly disease. Mr. Kramer made a promise to his daughter that he would create the Chondrosarcoma Foundation to honor her legacy and it was incorporated six months later.
According to Mr. Kramer, "We are grateful for the support from CSX and Inhibrx. Because of their support as well as from donations and support of our diverse board of directors, we now have the funding to begin the on-boarding process for the patient directory and sustain it for the next two years."
In the effort to raise awareness of Chondrosarcoma and to support patients who suffer from this rare disease, the Chondrosarcoma Foundation has spent the past twenty months hosting virtual dialogues with clinical researchers and sarcoma experts to discuss new treatments, diagnostic techniques and medications. Board members have contributed professional position papers and commentaries. The Foundation honors Shayna's birthday, February 6, by promoting Chondrosarcoma Awareness Day.
The Patient Registry will be designed to assist the medical community with the development of recommendations for standards of care, assist researchers studying the pathophysiology of Chondrosarcoma and support the design of clinical trials that explore new and innovative treatments.
For more information, please contact:
Chondrosarcoma CS Foundation, Inc.
ATTN: Jeff Kramer, President
12504 Quarterhorse Drive; Bowie, Md 20720
E-mail: info
Website: www.csfshayna.org
Phone: 301-352-3042 / 301-404-7100