Commentaries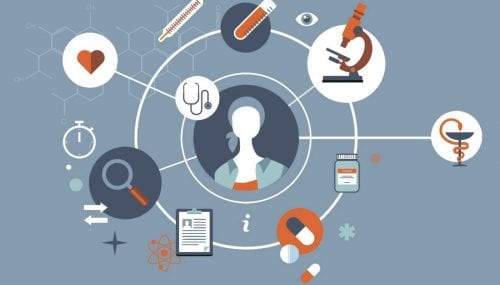 Navigating Care and Treatment of Chondrosarcoma
Mike Snyder, Albuquerque, New Mexico
You've just endured the difficult news that you or a loved one has chondrosarcoma, a rare form of bone cancer sometimes referred to as CS. And you suddenly find yourself dealing with an avalanche of questions regarding treatment options, choice of doctors, locations for treatment, and what your next steps should be. The questions can seem both endless and overwhelming. It's hard enough hearing that you have cancer. Now you're wondering if finding effective treatment will be just as difficult.
The goal here is to briefly walk you through the process and help you understand both what's going on and what's to come. Knowing a bit about what's happening will help you understand what CS is, how it occurs, what treatment options are available, and what you can expect moving forward.
Let's start with what chondrosarcoma is. The Mayo Clinic defines it as "…a rare type of cancer that usually begins in the bones, but can sometimes occur in the soft tissue near bones. The most common locations for chondrosarcoma tumors are in the pelvis, hip, and shoulder. More rarely, the base of the skull is affected."
So, to put simply, CS is a type of rare bone cancer. As with many cancers, CS has various types and can be classified by its level of severity and specific location within the body. Many cases occur in the limbs such as legs or arms, but CS can occur in the spine, at the base of the skull and at other locations in the body.
CS is often diagnosed with x-rays and CT or MRI scans. Its symptoms are usually pain and swelling of a specific bone or joint area. A bone biopsy may be used to verify whether or not the swelling is from a bone cancer tumor.
Once you've been diagnosed, you will need to think about treatment. One of the first things you'll want to consider is the type of treatment you want. There are many options available, but not all of them will fit your specific need or comfort level. The most common treatment for CS is the surgical removal of the tumor. While this is effective, there are instances where it is simply not practical or feasible, based on the tumor's location, such as the spine or the base of the skull.
Some types of radiation are effective, such as proton radiation on skull base tumors, but this varies widely, as do most chemotherapy treatments. Chondrosarcoma doesn't always respond to either approach. And many doctors, even many oncologists who deal with sarcomas, may not be familiar with the specifics of chondrosarcoma itself.
This is why you need to ask lots of questions and don't be afraid to ask for a second opinion, or even a third or fourth if needed. How experienced is the doctor with CS? Are various treatment options available? How does the doctor react when you say you want to get a second opinion?
Be wary if your doctor doesn't like questions or the idea of getting another opinion. They should welcome both. If this isn't the case, find another doctor. Someone who doesn't like questions probably isn't going to be open-minded about treatment options, including those options that might save your life. Do not proceed with a treatment unless you are comfortable doing so and all of your questions have been answered.
Besides deciding what course of treatment, you want, a second but still important question is deciding where you'll be treated. Obviously, you want to be treated close to home, but that isn't always the best course in terms of finding the most effective treatment. This will depend greatly on where you live and what type of cancer treatments are available nearby. Traveling for treatment can be both exhausting and expensive. If your insurance doesn't cover travel for treatment, there are many organizations that can help, more than can be listed here. Again, this is an area where you want to ask lots of questions.
You might want to consider clinical trials as a treatment option. Contrary to the opinion of many people, including some doctors, clinical trials are NOT a treatment of last resort, nor are they scenarios where you are treated like a lab rat. Care and treatment under clinical trials is highly regulated and controlled. The medical staff that works on clinical trials are highly trained on the specific treatment you're getting. And you are free to stop the treatment at any time, no questions asked.
For each of these areas there are many layers of details to consider and think about. No brief narrative can cover every bit of information available. Nor can it provide quick and easy answers to questions that are very complex and very important. Selecting the treatment, you want and need, along with deciding where you'll receive that treatment is decisions that should be made by you and your family, not anyone else.
Take advantage of the resources that are available. Ask questions. Talk with your healthcare providers, family and friends, and other cancer patients; both those with CS and with other types of cancer. An old cliché says knowledge is power. Use this knowledge to give yourself the best chance of winning against CS and living life on your terms, not cancer's.
Mike Snyder
Mike Snyder lives in Albuquerque, New Mexico with his wife, Sarah. They have two children, Nicholas and Stephanie. Mike has worked in broadcast engineering for 40 years. He has been dealing with chondrosarcoma since 1996. The fight became intense in 2005 when he lost his leg to the disease and it began to metastasize to his lungs. After several unsuccessful drug trials, Mike joined the trial for AG-120 in late 2014 and it has successfully slowed the growth of his tumors. He continues working full-time, enjoying time with Sarah and grilling whenever he gets the chance. He says, "Cancer doesn't get to win; not now, not ever." Mike is also the author of the book entitled: No Treatment Options Left: Fighting and Surviving Inoperable Cancer.