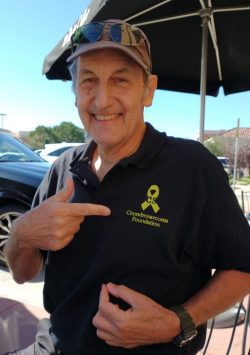 It is with deep sadness that I share that David Bowles lost his battle to Chondrosarcoma on August 19, 2022. He was a CS Warrior, a champion and supporter to the community. He would always share both his experiences with proton radiation and Tibsovo and how that treatment extended his life without surgery. He offered his advice and support to anyone suffering from this rare bone cancer.
David Bowles, Ph.D. was born in London and educated at several European universities before earning a doctorate in management sciences/organizational psychology from Manchester Business School, UK.  He had a long career in US and EU-based management consulting, before retiring and writing two business books on employee morale/engagement and work culture.  In 2017 David was diagnosed with pelvic chondrosarcoma, and after refusing surgery, completed proton radiation.  Following a significant period of complete remission, he started taking the IDH1 inhibitor Tibsovo in early 2020 to deal with metastatic disease, and had been stable for several years up to early 2022.  David's goal was to help people facing this disease and advocated to move treatment options away from surgery. He lived in San Diego and Bavaria, Germany.
David joined the board of the Chondrosarcoma Foundation in 2020. He took the initiative to talk with other foundations representing rare diseases and met with the staff at NORD: National Organization for Rare Disorders to help the foundation find its mission to make a difference. As a direct result of his efforts, the CS Foundation joined NORD and is in the process of building the Chondrosarcoma Patient Registry.
Despite having chondrosarcoma, David knew how to live life and loved traveling with his companion Janice. One of David's memorable contributions was a presentation at our third virtual dialogue entitled: Using Psychology to Help. David wants us make the most of our life and conquer stress, pain and anxiety. David applied his training as a psychologist with his experience as a CS Warrior to bring the message that you can live life to the fullest. His presentation is listed below.
Virtual Dialogue 3 videos – Chondrosarcoma CS Foundation, Inc. | Chondrosarcoma CS Foundation, Inc. (csfshayna.org)
David's contributions to the CS community and to the CS Foundation will always be remembered.