Bone Cancer Awareness Week 2021
11 – 17 October 2021, we need your help!
76% of primary bone cancer patients in the UK are misdiagnosed and 14% of cases are in the skull, face and jaw. During #BoneCancerAwareness Week we're educating dentists, dental healthcare professionals, students and GPs on the signs and symptoms of primary bone cancers and tumours of the skull, face and jaw.
Bone cancer awareness amongst healthcare professionals and the public is vitally important for improving outcomes for patients. Freddie (pictured above) had symptoms that started with pain in his chest and jaw, then a lump near his temple. He was initially diagnosed by GPs with an ear infection and given antibiotics, then Temporomandibular disorder, followed by teething pain. It was only when Freddie went to see an out of hours dentist because the pain was so bad, that a lump was identified near his temple and he was referred to A&E. Scans and a biopsy followed and confirmed it was metastatic Ewing sarcoma. Read Freddie's full inspirational story below.
What are we doing to help patients like Freddie?
70% of patients diagnosed with a primary bone cancer or tumour of the jaw visit the dentist when first seeking medical advice. However, only 23% of them are referred for diagnosis and treatment by the dentist. This Bone Cancer Awareness Week, we are equipping dentists, dental healthcare professionals and dental students with the education resources they need to help identify the signs and symptoms of primary bone cancer and tumour in the head and jaw. We're also continuing to educate GPs to improve overall speed of diagnosis and improve outcomes for all patients.
Here's what's happening during the week:
Mon 11th – 71,280 educational resources will be arriving at 11,370 dental practices and 18 dental schools across the UK.
Wed 13th – We're holding a free dentist educational webinar
Thurs 14th – We're holding a free GP educational webinar
Fri 15th – It's Bake it for Bone Cancer Day & we are holding our second International Ewing Sarcoma Symposium for researchers
Sat 16th & 17th
– It's the 2021 Bone Cancer Conference, our flagship support event, with over 20 inspirational speakers and for the first time, held virtually over 2 days
And throughout the week we will be sharing inspirational stories (just like Freddie's above), new statistics and life-saving information to help raise #BoneCancerAwareness amongst the public!
Here's how you can help…
Do you know a dentist, dental healthcare professional, dental student or GP? Ask them to attend our free webinar and read our free education materials!
Help promote awareness in your local community! Request a FREE awareness pack now and share it with friends, display it in your community hall or coffee shop, or even take it to your own dentist and / or GP and ask them to read it.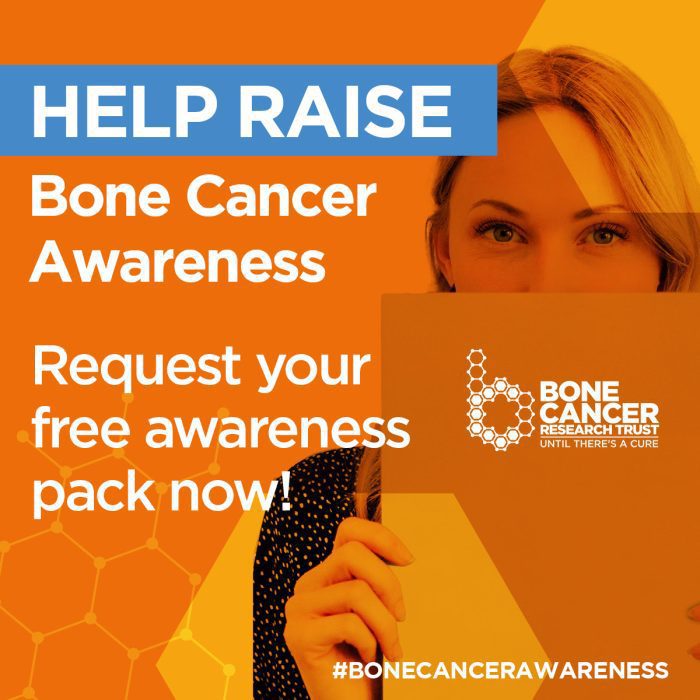 Join in on Bake it for Bone Cancer Day!
Rise to the occasion and Bake it for Bone Cancer on Friday 15th October!
Get baking your best brownies, delicious delights and tasty treats to help save lives! Why not invite your local schools, businesses and community to get involved too? After all… who doesn't love cakes?
If you can't join us on the 15th October, but would still like to take part, no problem! You could host a Bake It Day any time throughout Bone Cancer Awareness Week (11-17 Oct). Our free fun-filled Bake it for Bone Cancer pack has everything you need to have a tea-riffic time!
Other ways to get involved
We have so many options this Bone Cancer Awareness Week to get involved, no matter of your ability or time, there is something that everyone can do!
Join the Team Bones 100km Dog Walk!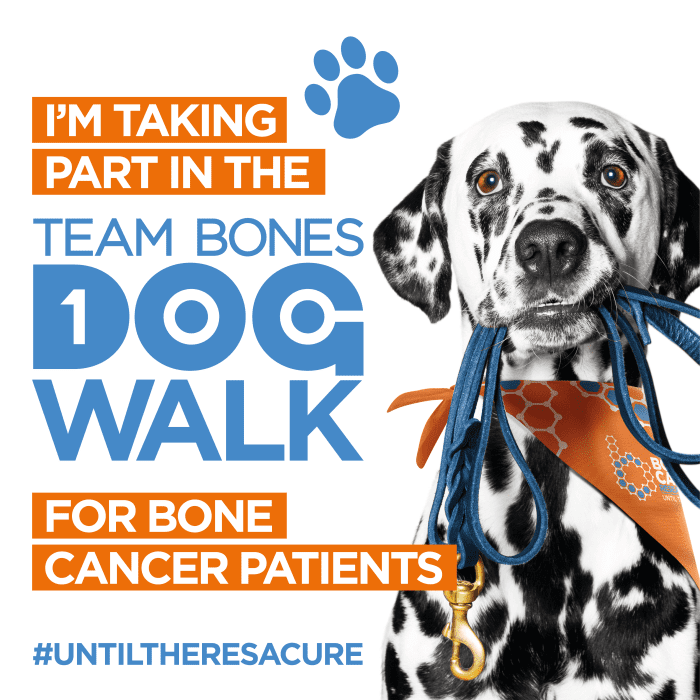 Yes, request your free #TeamBones t-shirt and doggy bandana and emBARK on our latest challenge raising vital awareness in amongst the public and vital funds for our life-saving research.
Get social
Get involved on Facebook, Twitter, and Instagram. Sharing, liking and commenting on posts is a quick and easy way to add your contribution to #BoneCancerAwareness Week 2021. Why not also apply our free Facebook frame and raise awareness amongst your friends and family?
Help educate others
Be aware of the symptoms yourself and help educate others by sharing our graphics: